Parish Administration
His Grace, Bishop Gregory of Nyssa, Diocesan Bishop
Voice: (814) 539-9143
Email Bishop Gregory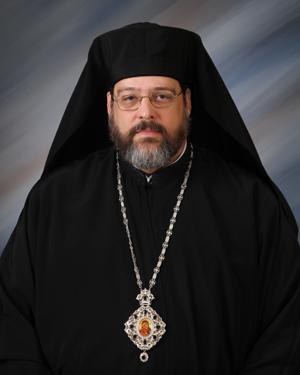 His Grace, Bishop Gregory of Nyssa, is the spirtual leader of the American Carpatho-Russian Orthodox Diocese, which maintains offices at 312 Garfield Street, Johnstown, Pennsylvania, 15906.
His Grace, Bishop Gregory was consecrated as Bishop and enthroned as the Ruling Hierarch of the American Carpatho-Russian Orthodox Diocese of the USA on November 27, 2012.
His Grace celebrates his Name's Day (St. Gregory Palamas) on November 14/27.
Under His Grace's care is our Diocesan Christ the Saviour Seminary, also in Johnstown, Pennsylvania, which trains future priests and deacons of our Diocese. In addition, the Diocese maintains Camp Nazareth Youth and Retreat Center in Mercer, Pennsylvania.
Bishop Gregory also serves as Episcopal Liaison to the Orthodox Christian Fellowship and Chairman of Committee for Agencies and Endorsed Organizations of the Assembly of Canonical Orthodox Bishops of the United States of America.
Very Rev. R. Michael Zak, Presiding Priest

Voice: 412-461-3264 (rectory); 412-804-8865 (mobile)
Email: frmzak@gmail.com
Very Rev. R. Michael Zak has served St. Nicholas Parish since 2014. He was ordained as a priest on April 30, 1972 by His Grace, Bishop John of the American Carpatho-Russian Orthodox Diocese of the U.S.A. He was elevated to the rank of Very Reverend in 1995 by His Eminence, Metropolitan Nicholas.
Fr. Michael has previously served parishes in Washington, D.C., Warren, Ohio, Hawk Run, PA, East Chicago, Indiana, Clymer, PA and North Side Pittsburgh, PA, as well as serving as Director of Camp Nazareth from 1990 to 2003. He previously served as the National Junior A.C.R.Y. Spiritual Advisor for 8 years.
Fr. Michael and Pani Deborah are the parents of two sons, Adam and Aaron and one daughter, Rebecca and grandchild, Tabitha Rose
Deacon Artemius Stienstra, Esq.

Sub-deacon: Andrew Halapin Jr.
Choir Director: Fred Danchenko
Fred Danchenko was baptized in 1962 and attended St. Gregory Russiain Orthodox Church on 15th Avenue in Homestead. Fred's love of music was evident from an early age, as he joined the church choir at the age of 9. Beside his love for church music, Fred soon discovered his passion for classical music.
After Graduating from West Mifflin North H.S. in 1980, Fred attended Carnegie Mellon University for six years, receiving a Bachelor's Degree in Music Performance on the String Bass, and a Master's Degree in Music Education. Over the years, Fred performed as a bassist with the Pittsburgh Opera & Ballet Orchestras, McKeesport Symphony, and various other local ensembles.
Fred met his wife Rebecca Hanczar when he was serving as Choir Director of the Holy Virgin Russian Orthodox Church in Carnegie. He served as director from 1987 until 2009. Rebecca succeeded him and is the current director in Carnegie.
He began teaching music with the West Mifflin Area Choir District in 1990. He led the orchestra program for over 25 years until his retirement last June.
Since retirement, Fred has remained musically active. He has formed an alumni orchestra for WM graduates. Fred and Rebecca have one daughter, Nina, who recently gave birth to Eleanor Pearl this past December.
Fred feels blessed to have an opportunity to work with the talented and dedicated singers at St. Nicholas! His hobbies include reading, studying history, travel, and babysitting.
Council President: Tom Pingor
A.C.R.Y President: Cathy Pawlick
Online Chapel
---